cutera secret RF microneedling
May 1, 2019


Cynosure Smartlipo triplex
May 1, 2019
What is Candela GentleMax Pro?
The Candela GentleMax Pro is a game changer in the field of high-speed laser hair removal and skin rejuvenation. Its dual wavelength allows practitioners to treat a multitude of skin concerns with no downtime. The system combines the power of 755 nm Alexandrite laser with 1064 nm Nd:YAG laser to provide safe, comfortable, quick, and effective cosmetic solution to a wide array of skin conditions with a single beam of laser light.
How Candela GentleMax Pro Works?
The Candela GentleMax Pro's laser beam passes through the deeper layer of the skin and is absorbed in the hair follicle. This in turn produces adequate amount of heat energy and destroys the hair follicle, resulting in permanent hair removal. For skin rejuvenation treatments, the Candela GentleMax Pro's laser energy stimulates the production of collagen, resulting in skin cell renewal. This process replaces old skin cells with new, healthy skin cells, resulting in healthier, radiant, and younger-looking skin.
What Conditions can Candela GentleMax Pro Treat?
Candela GentleMax Pro's dual wavelength allows practitioners to treat a myriad of indications such as the following:
Beard Bumps (PFB)
Diffuse redness
Facial and spider veins
Hemangiomas
Leg veins
Onychomycosis (nail fungus)
Pigmented lesions
Port wine stains
Pseudofoliculitis barbae (shaving bumps)
Rosacea
Sagging jawline
Sun spots
Telangiectasia (threadlike red lines on skin)
Unwanted hair
Vascular lesions (flat or raised lesions)
Venous lake (bluish elevated papule)
Wrinkles
Is Candela GentleMax Pro Safe?
The treatment is safe and effective for all skin types. This is because Candela GentleMax Pro's patented Dynamic Cooling Device (DCD) technology allows it to deliver consistent bursts of protective cryogen (a substance that produces very low temperature) while preventing thermal damage in the treatment area. In addition, its Air Cooling Compatible (ACC) technology improves patient comfort by directing cold air into the area.
What Happens during a Candela GentleMax Pro Treatment?
Candela GentleMax Pro will first emit a pulse of cooling spray in the treatment area to protect it against burn and improve comfort. A pulse of laser light will then be emitted in order to target hair follicles or simulate skin cell renewal. A tolerable stinging sensation is normal and is a desired clinical outcome as the therapeutic heat is being absorbed by the skin tissue. The treatment can take 30 minutes to 1 hour, depending on the existing skin condition, treated area, and desired cosmetic goals.
Technical Specifications
Laser Type
Nd:YAG Alexandrite
Nd:YAG Alexandrite
Wavelength
1064 nm
755 nm
Repetition
Up to 10 Hz
Up to 10 Hz
Max Delivered Energy
80 joules (J)
53 joules (J)
Pulse Duration
0.250-100 ms
Spot Sizes
6 mm, 8 mm, 10 mm, 12 mm, 15 mm, 18 mm
λ2 Specialty Delivery System Option Spot Sizes
1.5 mm, 3 mm
Beam Delivery
Lens-coupled optical fiber with handpiece
Pulse Control
Finger switch, foot switch
Dimensions
107 cm H x 46 cm W x 69 cm D (42" x 18" x 27")
Weight
118 kg (260 lbs)
Electrical
200-240 VAC, 50/60 Hz, 30A, 4600 VA single phase
Handpieces
Candela GentleMax Pro features two handpieces that are designed for skin protection and patient comfort:
Dynamic Cooling Device (DCD): As the name implies, it delivers consistent bursts of protective cryogen at the treatment area to avoid burns and overtreatment.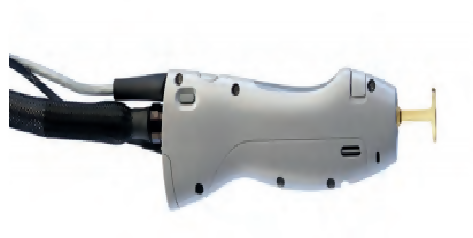 Air Cooling Compatible (ACC): This device promotes patient comfort by directing cold air to the treatment area.