Alma Soprano Ice Platinum
April 25, 2019


Vivace Microneedling with Radio Frequency (RF)
April 25, 2019
Cynosure Medlite C6 laser is the gold standard in cosmetic laser technology and is touted as one of the safest laser treatments nowadays because it's a non-abrasive laser, which means that this innovative system does not remove layers of skin. Cynosure Medlite C6 has a photo-acoustic effect on the treatment area. This means that it combines high peak power and short pulse duration in order to treat a variety of skin concerns without harming the surrounding tissue.
What Conditions can Cynosure Medlite C6 Treat?
Cynosure Medlite C6 offers safe and effective treatment for the following skin concerns:
Acne scars
Hyperpigmentation
Melasma (brown to gray-brown facial patches)
Multi-colored tattoos
Pigmented lesions
Sun-damaged skin
Uneven skin tone and color
Unwanted hair
Vascular lesions
Wrinkles
How does Cynosure Medlite C6 Work?
Cynosure Medlite C6 makes use of Q-Switched Nd: YAG laser energy to penetrate through the deeper layers of the skin. This creates "microinjuries" or controlled wound that stimulate the body's natural healing process. As a result, new healthy skin cells replace old damaged skin cells at the site of laser treatment, revealing smoother, radiant, and rejuvenated skin.
Is Cynosure Medlite C6 Really Safe?
Cynosure Medlite C6 is very safe since its flat-top beam profile delivers energy evenly on the skin's surface, thus preventing damage to the surrounding tissue while increasing patient comfort. This technique allows it to produce consistent results with lower risk of complications. Because of its proven safety record, the FDA approved the use of this non-invasive skin rejuvenation treatment for a myriad of skin conditions.
What is the Recovery like following a Cynosure Medlite C6 Treatment?
The treatment has no downtime. Mild redness is normal and is a desired clinical endpoint as skin cell renewal takes place. Any discomfort usually resolves after 24 hours. Because Cynosure Medlite C6 is virtually painless and safe, patients can resume work and daily routine following the treatment.
Technical Specifications
Laser Type
Nd YAG and Dye Impregnated Polymers
Operating Parameters

 

EO Q-Switched, Nominal Delivered Energy at end of Articulated Arm with no Handpiece

1064 nm – 1.0 Joule

532 nm – 400 mJ

Converted Wavelengths

 

585 nm – 250 mJ

650 nm – 150 mJ

Nominal Pulse Energy Density

 

1064 nm – 12.0 J/cm2 @ 3.0 mm spot size

532 nm – 5.0 J/cm2 @ 2.0 mm spot size

585 nm – 8.0 J/cm2 @ 2.0 mm spot size

650 nm – 4.5 J/cm2 @ 2.0 mm spot size

Pulse Width
5-20 ns
Repetition Rate
Single shot, 1 Hz, 2 Hz, 5 Hz, 10 Hz
Spot Size

 

1064 nm – 3, 4, 6, 8 mm

532 nm – 2, 3, 4, 6 mm

Cooling
Closed Cycle Water to Air Heat Exchanger
Input Power
220 V | 60 Hz | Single Phase | 8 A

110 V | 60 Hz | Single Phase | 15 A

Weight
127 Pounds (58 kg)
Unit Base Dimensions
28.5″ D x 12″ W x 31.8″ H (44.5″ H with arm)
Handpieces
MultiLite™ dye: Designed for the treatment of multi-colored tattoos.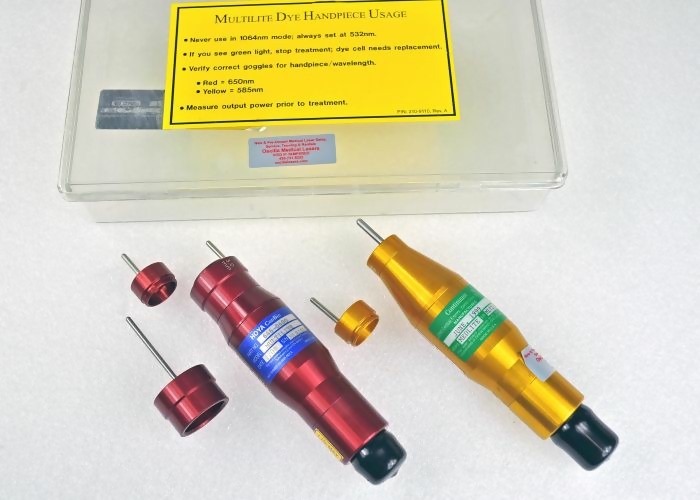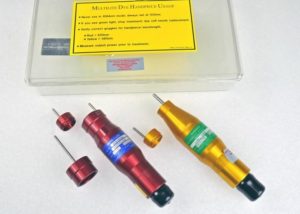 532Lite™: Treats small pigmented lesions.