Lumenis Splendore X
May 2, 2019


What is Lumenis Infinity?
Lumenis Infinity is touted as the most advanced laser hair removal and skin rejuvenation treatment for all skin types and ethnicities. With Lumenis Infinity, practitioners can specifically customize treatment according to the cosmetic or medical needs of the patient. Lumenis Infinity laser can provide safe and effective solution to a multitude of skin concerns because it is equipped with 2 diode wavelengths (805nm and 1060nm), 2 advanced technologies (vacuum-assisted technology and a cooling mechanism called ChillTipTM), and 3 spot sizes.
How does Lumenis Infinity Work?
During the treatment, Lumenis Infinity's vacuum-assisted technology draws the skin into the handpiece, which further stretches the skin and pulls it closer to the laser energy source. The melanin (pigment that gives skin color) then absorbs the laser energy until it gets destroyed. After inducing precisely controlled damage, the target area is then released. This unique process stimulates skin cell renewal, resulting in a smoother, radiant, and healthier skin. For laser hair removal treatment, Lumenis Infinity is customized to only target structures in the hair follicle so that hair regrowth can be prevented.
To increase patient comfort and prevent burn injuries, Lumenis Infinity's ChillTipTM technology delivers cold air into the target area before and after application of laser beam. This innovative technology provides a cooling anesthetic effect, thus preventing any discomforts during the treatment.
What are the Advantages of Lumenis Infinity over Traditional Laser Treatments?
Lumenis Infinity is touted as the most advanced laser hair removal and skin rejuvenation treatment because of the following advantages:
Safe and Effective: This state-of-the-art laser treatment uses vacuum-assisted technology to draw the skin closer to the energy source. This unique technique allows laser energy to be delivered more efficiently and evenly into the skin surface.
Absolutely Painless: This laser system is very smart because its vacuum mechanism naturally blocks pain transmission to the brain by activating tactile and pressure skin receptors. Furthermore, its ChillTipTM technology provides effective cooling of the treatment area. The smart combination of Lumenis Infinity's vacuum and cooling mechanism makes it an ingenious option for people with low pain threshold who are seeking long-term permanent solution to their skin concerns.
Quick Treatment: Lumenis Infinity has multiple handpieces that can quickly address different skin concerns in just a few minutes.
No Downtime: Unlike drastic surgical procedures, Lumenis Infinity treatment has no downtime. In fact, patients can immediately return to work or daily activities after the treatment. Because of this, medical professionals call it a "lunchtime rejuvenation" procedure.
What Conditions can Lumenis Infinity Treat?
Lumenis Infinity allows medical professionals to address the following skin conditions:
Age spots
Angiomas
Becker's nevi
Café au lait spots (flat, pigmented birthmarks)
Hemangiomas
Leg veins
Melasma
Nevi of Ota/Ito
Pseudofolliculitis Barbae (persistent irritation caused by shaving)
Sun-damaged skin
Telangiectasia
Unwanted hair
Wrinkles
Technical Specifications
| | |
| --- | --- |
| Laser Type | AIGaAs Diode Arrays |
| Wavelengths | 805 nm and 1060 nm |
| Spot Sizes | 22 mm X 35 mm, 9 mm X 9 mm, and 9 mm X 27 mm |
| Repetition Rate | Up to 3 Hz |
| Fluence | 4.5-80 J/cm2 |
| Pulse Width | 5 – 400 ms |
| Peak Power | 1600 – 2300 W |
Handpieces
Lumenis Infinity comes with 3 innovative handpieces which allow practitioners to treat different body areas as well as medical conditions:
HS (22mmx35mm): It enables the use of low-fluence and improves patient comfort through its unique cooling mechanism.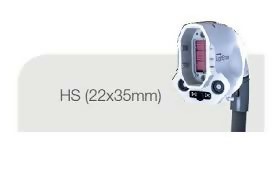 LR (9x27mm): Designed for treatment of small to medium body areas.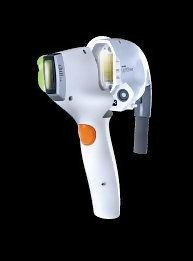 ET (9X9mm): Designed for treatment of small body areas that require maximum precision.