Vivace Microneedling with Radio Frequency (RF)

What is Vivace Microneedling RF?
Vivace Microneedling RF is an FDA-approved, state-of the-art skin-tightening procedure that is used to treat signs of aging and other skin imperfections. The device emits Microneedling Fractionated Radio Frequency (MFR) energy into the deeper layers of the skin to create controlled microinjuries and stimulate skin regeneration.
How does Vivace Microneedling RF Works?  
The device releases the MFR energy into the deeper layers of the skin to create micro-channel and stimulate increased production of collagen and elastin. As a result, the body interprets this process as a form of injury and instructs the skin to repair itself by removing old, damaged tissues and replacing it with new skin cells. This compensatory mechanism naturally tightens the skin and removes any imperfections, leaving the area radiant, smoother, healthier, and younger-looking.
What Conditions can Vivace Microneedling RF Treat?
This advanced skin rejuvenation procedure allows medical professionals to treat a multitude of skin concerns such as the following:
Acne
Acne scarring
Age spots
Enlarged pores
Fine lines
Post-surgical scars
Sagging skin
Stretch Marks
Sun-damaged skin
Uneven skin tone and color
Wrinkles
What are the Advantages of Vivace Microneedling RF?
Vivace Microneedling RF offers the following advantages:
Adjustable RF Energy: The device can use red or blue LED laser depending on the cosmetic needs of the patient. Red LED laser stimulates skin cell renewal while blue LED laser kills acne-causing bacteria.
Very Safe: Unlike other laser rejuvenation procedures, this advanced RF-based treatment delivers energy below the melanin (gives skin color), thus avoiding overtreatment and untoward side effects. In fact, this innovative equipment is safe for all skin types and ethnicities because the RF of the laser can be customized to suit different body areas and skin concerns.
No Downtime: Unlike drastic surgical procedures, Vivace Microneedling RF only creates microinjuries in the treatment area in order to stimulate skin regeneration. Therefore, there is no downtime and patients can immediately return to work and daily activities.
Can be combined with other treatments: Vivace Microneedling RF can be combined with other skin rejuvenation treatments such as platelet-rich plasma (PRP) for optimal results.
Unmatched Precision: Unlike other microneedling rollers and pens, Vivace's microneedles create fast, precise, and even insertions into the skin. As a result, heat is evenly distributed in the treatment area. This ultimately prevents burning, hot spots, and other discomforts felt during the treatment.
Adjustable Needle Depth: Both insulated and non-insulated needles of Vivace can be adjusted from 0.5 mm to 3.5 mm, allowing practitioners to treat a wide array of skin types and concerns.
Technical Specifications
| | |
| --- | --- |
| Model Name | Vivace |
| Power Input | 110 |
| Dimensions | 15" (W) X 14" (D) x 45" (H) |
| Weight | 55 lbs |
| Output Frequency | 1MHz + 2MHz |
| Power | 70 watts |
| Interface | 10.4 inch LCD Touch Screen |
Accessories
Vivace Microneedling RF's LED laser allows practitioners to improve skin tone and texture while treating the root cause of the condition:
Red LED Laser: It stimulates skin cell renewal through increased collagen and elastin production.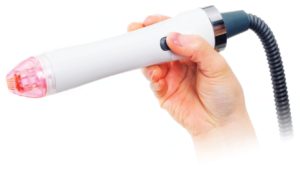 Blue LED Laser: This powerful laser has antibacterial properties and kills existing acne-causing bacteria to successfully treat the root cause of any preexisting acne.

Additional information
| | |
| --- | --- |
| Weight | 250 lbs |
| Dimensions | 30 × 30 × 54 in |