Cynosure Vectus
May 1, 2019


Candela Gentlemax Pro
May 1, 2019
What is Cutera Secret RF?
Cutera Secret RF (radio frequency) is a microneedling device that is used to rejuvenate, rebuild, and firm the skin tissue via delivery of controlled heat into the deeper layers of the skin. This non-surgical skin rejuvenation treatment can dramatically reduce the appearance of wrinkles, traumatic scars, and other signs of skin aging, resulting in radiant, healthier, refreshed appearance.
How does Cutera Secret RF Work?
Cutera Secret RF emits precise high energy radio frequency waves through its microneedles to target areas of skin imperfections. The radio frequency energy passes through the deeper layers of the skin and stimulates skin cell renewal while preventing heat injury and overtreatment. This in turn causes skin regeneration via increased collagen and elastin production, revealing a smoother, younger-looking skin.
What Conditions can Cutera Secret RF Treat?
By boosting collagen and elastin production, Cutera Secret RF can treat a myriad of skin conditions such as the following:
Acne scars
Chicken pox and traumatic scars
Facial wrinkles
Fine lines
Irregular skin texture and tone
Large, visible pores
Loose skin around the eyes and mouth
Mild to moderate skin laxity
Stretch marks
What are the Advantages of Cutera Secret RF over other RF Microneedling Devices?
Cutera Secret RF offers the following unique advantages over other traditional RF microneedling devices:
It's very safe: Cutera Secret RF's perfectly spaced, conductive microneedles allow it to safely emit RF waves into the deeper layers of the skin while preventing overheating.
No downtime: After the treatment, patients can immediately resume work and activities of daily living.
Adjustable Needle Depth: Cutera Secret RF features adjustable needle penetration (0.5-3.5 mm) that allows practitioners to customize the treatment according to the needs of the patient.
Selectable Needle Type: Practitioners can also choose from non-insulated or semi-insulated needles to achieve the desired cosmetic goals.
What is the Recovery after a Cutera Secret RF Treatment Like?
After the procedure, redness and swelling can be present in the treated area. This is a desired clinical endpoint as the microinjuries heal and skin renewal takes place. After a few days, redness and swelling will resolve and the results of the treatment will be visible. For some patients, repeated treatments may be necessary to achieve optimal results.
Is it Safe for all Skin Types?
Unlike other skin rejuvenation procedures, Cutera Secret RF is safe and effective for all skin types.
Technical Specifications
Max Power
50W
RF Frequency
2Hz / Robotic Handpiece
Intensity
0-100 Level (10 Step)
Repetition
0.2 / 0.5 / 1 / 2sec / Single
Needle Thickness
0.3mm
Needle Figure
25 electrode needles (5×5) 8mm square (Standard)
16 electrode needles straight (Optional),
64 electrode needles 15mm Square (Optional)
Treatment Area
1cm x 1cm
Adjustable Depth
0.5-3.5mm (0.1 step)
Treatment Duration
50ms-950ms
Electrical Power
100-240 VAC. 50 / 60Hz
Handpieces
Cutera Secret RF features dual handpieces that allow practitioners to safely treat different body areas in the quickest time possible:
64-pin Handpiece: This is ideal for the treatment of larger body areas such as the neck, face, chest, and body.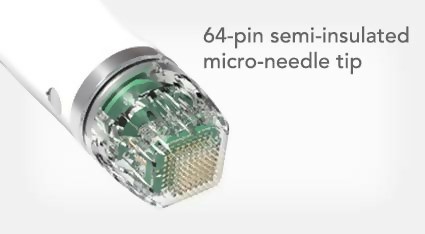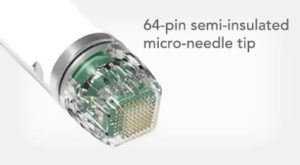 25-pin Handpiece: This is ideal for the treatment of smaller, more delicate areas.