What is Syneron Aurora?
Syneron Aurora combines two state-of-the-art technologies: radio-frequency (RF) and intense pulsed light (IPL). This FDA-cleared aesthetic device is designed for permanent hair removal, skin rejuvenation, and treatment of visible signs of skin aging & abnormal blood vessels. Using Syneron's elōs technology, the Aurora allows clinicians to safely and precisely target areas of skin imperfections while protecting the skin surface.
How does Syneron Aurora Work?
Syneron Aurora's combined RF and IPL energy targets the deeper layers of the skin and creates a thermal wound that stimulates collagen and elastin production. This process triggers the body's natural regeneration process, which in turn improves the migration of new healthy cells in the area. If the treatment is indicated for permanent hair removal, Syneron Aurora can be customized to cause damage to the hair follicle structures within the target area, preventing future hair regrowth.
What are the Indications for Syneron Aurora Treatment?
This advanced skin rejuvenation technology is indicated for the following:
Acne treatment
Permanent hair removal
Pigmented and vascular lesion treatment
Skin rejuvenation
Skin tightening
Wrinkle reduction
What makes Syneron Aurora Stand Out?
The following ingenious features make Syneron Aurora one of the top non-surgical skin rejuvenation treatments:
Elōs Technology: Provides precise and effective heat delivery into the deeper skin tissues with lower risk of injury.
Integrated Contact Cooling: Syneron Aurora's applicator provides 5 °C – 20 °C of cooling upon contact with the skin, thus, increasing patient comfort.
Powerful RF and IPL Energy: This combination ensures deeper tissue penetration with low risk of epidermal injury, making Syneron Aurora one of the safest skin rejuvenation treatments in the aesthetic industry.
Highly Selective Targeting: The platform ensures that the root cause of the skin imperfection is addressed. By selectively targeting the oil glands and acne bacteria, it does not only improve the appearance of acne but it actually treats the condition.
Is the Treatment Safe for all Skin Types?
Using combined RF and IPL energy for the treatment of various skin concerns is proven to be safe and effective in patients of all skin types and colors.
Is it Painless?
Most patients report a high level of comfort and satisfaction with Syneron Aurora treatment. The whole treatment process is absolutely painless and can be described as a deep heat massage.
How many Treatments are Required to see Results?
Dramatic results can be observed in 3-4 sessions. However, additional treatments may be necessary depending on the skin condition, area to be treated, and desired cosmetic or medical goals of the patient.
Technical Specifications
 
SRA Applicator
DS Applicator
Wavelength
470 nm – 980 nm
680 nm – 980 nm
Light / Optical Fluence / Energy
10-45 J/cm²
10-45 J/cm²
RF Energy
5-25 J/cm³
5-25 J/cm³
Spot Size
12 mm x 25 mm
12 mm x 25 mm
Pulse Rep Rate
0.7 Hz / sec
0.7 Hz / sec
Cooling
5 °C – 20 °C
5 °C – 20 °C
Electrical Info
94 – 106 VAC | 50 – 60 Hz

100 – 130 VAC | 50 – 60 Hz

207 – 254 VAC | 50 Hz

Dimensions
14 1/4″ W x 15″ D x 38 1/4″ H
Applicator Cable
67″
Weight
55 lbs
Handpieces
Syneron Aurora is compatible with two innovative handpieces that allow clinicians to treat a variety of skin conditions:
SRA Applicator: This is designed for advanced skin rejuvenation and resurfacing treatments.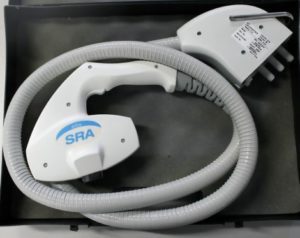 DS Applicator: For permanent treatment of unwanted hair.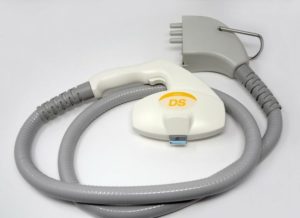 Additional information
| | |
| --- | --- |
| Weight | 250 lbs |
| Dimensions | 30 × 30 × 48 in |