What is Syneron Emax?
The Syneron Emax laser system is a well-rounded aesthetic laser treatment because it offers a wide range of skin rejuvenation procedures for patients of all skin types. Syneron Emax combines bipolar radiofrequency and optical energy to target different areas of skin imperfections. This cutting-edge laser technology can be safely used on virtually any skin tone or texture because of its large spot size of 12 mm x 15 mm.
How does Syneron Emax Work?
Emax is powered by Syneron's exclusive elōs technology, which makes use of combined bipolar radiofrequency and optical energy to address a multitude of skin concerns. Upon contact with the skin, Syneron Emax's handpiece cools the treatment area for improved patient comfort. The combined energy then heats the deeper layers of the skin, inducing controlled microinjuries. The body then responds by increasing the production of collagen in the area, removing old damaged skin and replacing it with new healthy skin cells. This eventually results in smoother, radiant, younger-looking skin that is free from any imperfections.
If the desired clinical outcome is permanent hair removal, Syneron Emax's combined bipolar radiofrequency and optical energy can be adjusted to target different structures of the hair follicle. This damages the hair follicle and prevents future hair regrowth in the area.
What are the Indications for Syneron Emax Treatment?
Syneron Emax offers a wide array of aesthetic laser treatments, including:
Acne treatment
Benign pigmented lesion treatment
Cellulite treatment
Circumferential reduction
Contouring
Facial vein treatment
Leg vein treatment
Permanent hair removal
Skin rejuvenation
Vascular lesion treatment
Wrinkle reduction
What makes Syneron Emax so Safe and Effective?
This all-in-one laser platform has the following unique features which makes it stand out among traditional laser rejuvenation procedures:
Syneron's elōs™ Technology: Also known as Electro-Optical Synergy technology, elōs™ uses combined bipolar radiofrequency and optical energy to deliver highly controllable energy capable of providing enhanced penetration, while avoiding burn injuries or overtreatment of the target area.
Active Dermal Monitoring™: This feature improves patient safety by monitoring changes in skin temperature during each laser pulse.
Contact Cooling: Syneron Emax's handpieces provide 5-10°C cooling for added comfort.
Automatic Safety Limits: This innovative laser system is preset to clinical indications so that practitioners will not exceed the maximum safety and efficacy.
Variable Wavelength: Syneron Emax emits a wavelength range of 400 nm to 2000nm, allowing practitioners to customize the treatment according to the cosmetic or medical needs of each patient.
Technical Specifications
| | |
| --- | --- |
| Wavelength | 400 nm to 2000 nm depending on handpiece |
| Repetition Rate | Up to 2 Hz |
| Weight | 77 pounds |
| Dimensions | 18" x 17" x 40" |
| Electrical Info | Standard 110 VAC (230 VAC) |
Handpieces
Syneron Emax allows practitioners to conduct a broad range of non-surgical skin rejuvenation treatments because there are 10 applicators or handpieces that can be used with this innovative laser platform. These handpieces provide 5°C cooling on the tip with the ReFirme ST handpiece providing 10°C cooling.
ReFirme ST: For treatment of fine wrinkles.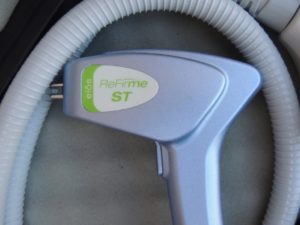 Matrix IR: Used for deep penetrating fractional wrinkle treatment.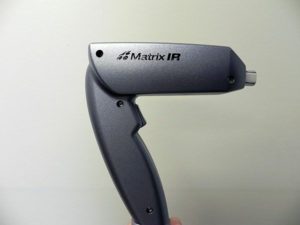 SR: For skin rejuvenation of vascular and pigmented lesions.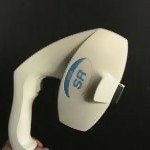 SRA: For advanced skin rejuvenation of vascular and pigmented lesions.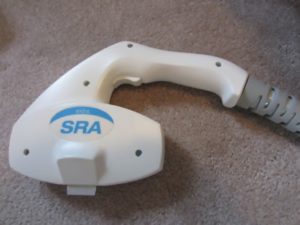 WRA: For treatment of wrinkles.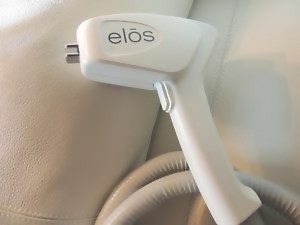 AC: For treatment of acne.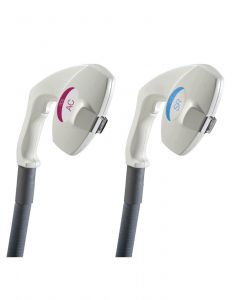 DS: For hair removal.
DSL: For laser hair removal.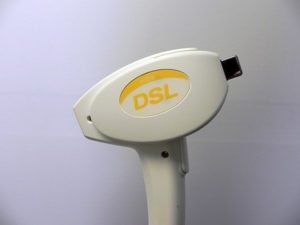 LV: For treatment of vascular lesions.
LVA: For treatment of advanced vascular lesions.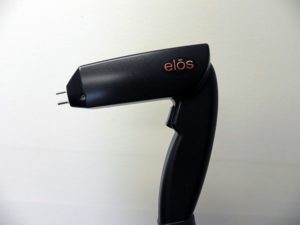 Additional information
| | |
| --- | --- |
| Weight | 250 lbs |
| Dimensions | 30 × 30 × 48 in |